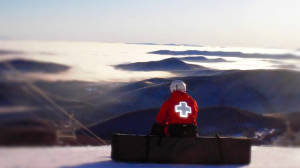 Are you interested in joining the National Ski Patrol, in the New Jersey Region?
If you're 15 yrs. old (Student Patroller) or older, interested in helping others, and you love to ski, snowboard or bike, think about joining the Ski Patrol:
We are involved in both Alpine and Nordic Ski Patrols in the winter as well as a Bike Patrol in the spring, summer, and fall.
We are commited to serving the public and facilitating enjoyable and safe participation in year-round outdoor recreation.
We will teach you first aid, tobbogan handling, and sharpen your skiing or snowboarding skills. 
Check out what you could be doing on the slopes:


For more information, please contact:
Joe Manna
or
Contact the Patrol Director of the patrol you would like to join:
New Jersey Region Patrols